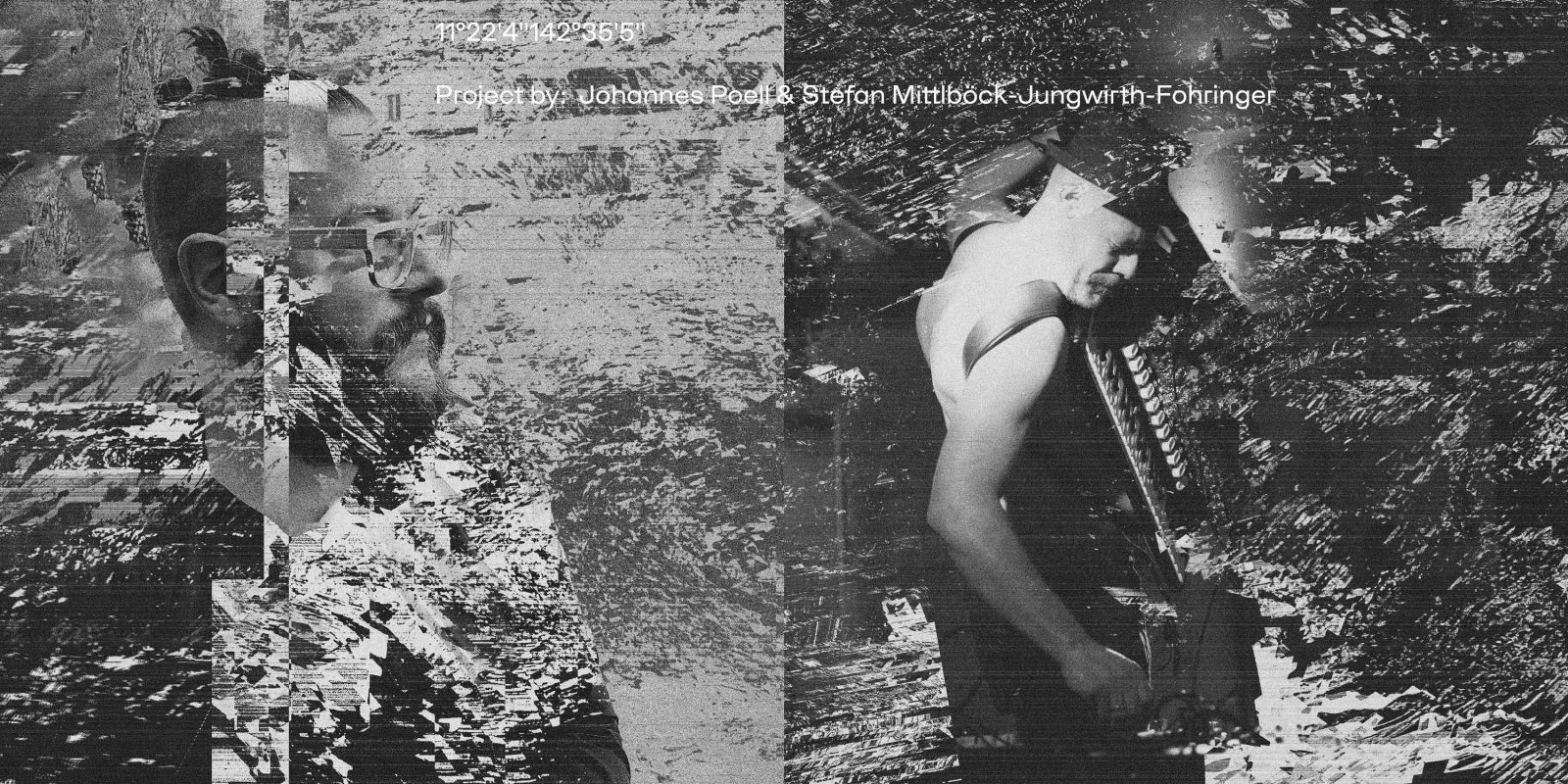 Project Titel: 11°22'4"142°35'5"
Project by: Johannes Poell & Stefan Mittlböck-Jungwirth-Fohringer, 2021
All Project Pictures copyright: Project 11°22'4"142°35'5", 2021
Project Description:
11°22'4"142°35'5" verortet das Challengertief mit 10.994 Metern als tiefste Stelle des Marianengraben im westlichen Pazifik. Als zwei Zahlenreihen aus Grad, Minuten und Sekunden im Koordinatensystem codiert entsprechen diese einem Grenzort unserer Welt.
Das gleichnamige Noise Performance Projekt der Künstler Stefan Mittlböck-Jungwirth-Fohringer und Johannes Poell versucht solche Grenzorte audiovisuell auszuloten. Das Duo schafft einen Brückenschlag aus analog akustischen und digital diskreten Frequenzbereichen.
Mutierte Akkordeon Tonfolgen durchwandern Filterkaskaden, entfernen sich von ihrem Ursprung um entfremdete Noiseebenen zu bilden. Dekonstruktion und Konstruktion von Tönen, sowie die Addition von modularer Synthese erschafft eine körperlich erfahrbare Welt.
Johannes Poell erzeugt generative Frequenzwelten. Modulare Bausteine sind sein akustisches und visuelles Werkzeug im Erforschen dieser Grenzorte. Stefan Mittlböck-Jungwirth-Fohringer schöpft in seiner Akkordeon-Noise-Performance aus langjährigen Erfahrungen und wissenschaftlichen Ergebnissen aus seiner künstlerischen Forschung mit der Honigbiene (Apis mellifera Carnica).
11°22'4"142°35'5" locates the Challenger Deep at 10,994 meters as the deepest point of the Mariana Trench in the western Pacific Ocean. Coded as two series of numbers consisting of degrees, minutes and seconds in the coordinate system, these correspond to a fringe location of our world.
The noise performance project of the same name by the artists Stefan Mittlböck-Jungwirth-Fohringer and Johannes Poell attempts to explore such fringe locations audio-visually. The duo creates a bridge between analog acoustic and digitally discrete frequency ranges.
Mutated accordion tone sequences wander through filter cascades, moving away from their origin to form alienated noise levels. Deconstruction and construction of tones, as well as the addition of modular synthesis creates a physically experiential world.
Johannes Poell creates generative frequency worlds. Modular building blocks are his acoustic and visual tools in exploring these liminal places. In his accordion-noise performance, Stefan Mittlböck-Jungwirth-Fohringer draws on many years of experience and scientific results from his artistic research with the honey bee (Apis mellifera Carnica).